VENICE SIMPLON-ORIENT-EXPRESS: A journey through time
Considering all the photos and stories we've posted on instagram from our journey on the Venice Simplon-Orient-Express, you might think that there's nothing more to say… but that would be wrong!
When Belmond asked us if we wanted to travel on their train from Berlin to Paris, we immediately said yes! They actually only do this route once a year, and this was their 3rd year, so we were extra lucky as this was even more unique.
What we kept hearing, and soon realized was true, is that this train doesn't only take you across Europe, but it transports you back in time as well. A lot of you have been saying that traveling on the VSOE train has always been a dream of yours, and it was one of ours too, so we tried to do the best we could to take you on this once in a lifetime experience together with us.
We boarded the train in Berlin at around 11am, and after checking into our cabin suite and settling in, we were told that, out of the three dining cars they have, we were going to have lunch at la Etoile du Nord. This restaurant has so much beautiful marquetry that you could stare at for hours, and it's defined by its green fabric lounge chairs.
During lunch, we started chatting with one of the stewards, who told us sooo many interesting fun facts. (Side fact: 90% of the personnel on the train is from the Venice area, so they all speak Italian, which was great for us because it truly made us feel like we were so close to home). He started telling us amazing stories regarding some other famous guests who had previously traveled on the train. The Queen of Qatar was on the train for an entire week a few years ago, as she traveled from Istanbul to London, and he told us that sometimes she'd wake him or his colleagues up in the middle of the night because she wanted hot chocolate or she would demand for the restaurants to be open at any time of the day in case she felt hungry.
Another famous guest who had recently been on the train was Kate Winslet. He told us that one of the other stewards sat down with her for hours and she told him many interesting BTS facts about Titanic (we are still dying to know what she told him, but I guess we'll never know!).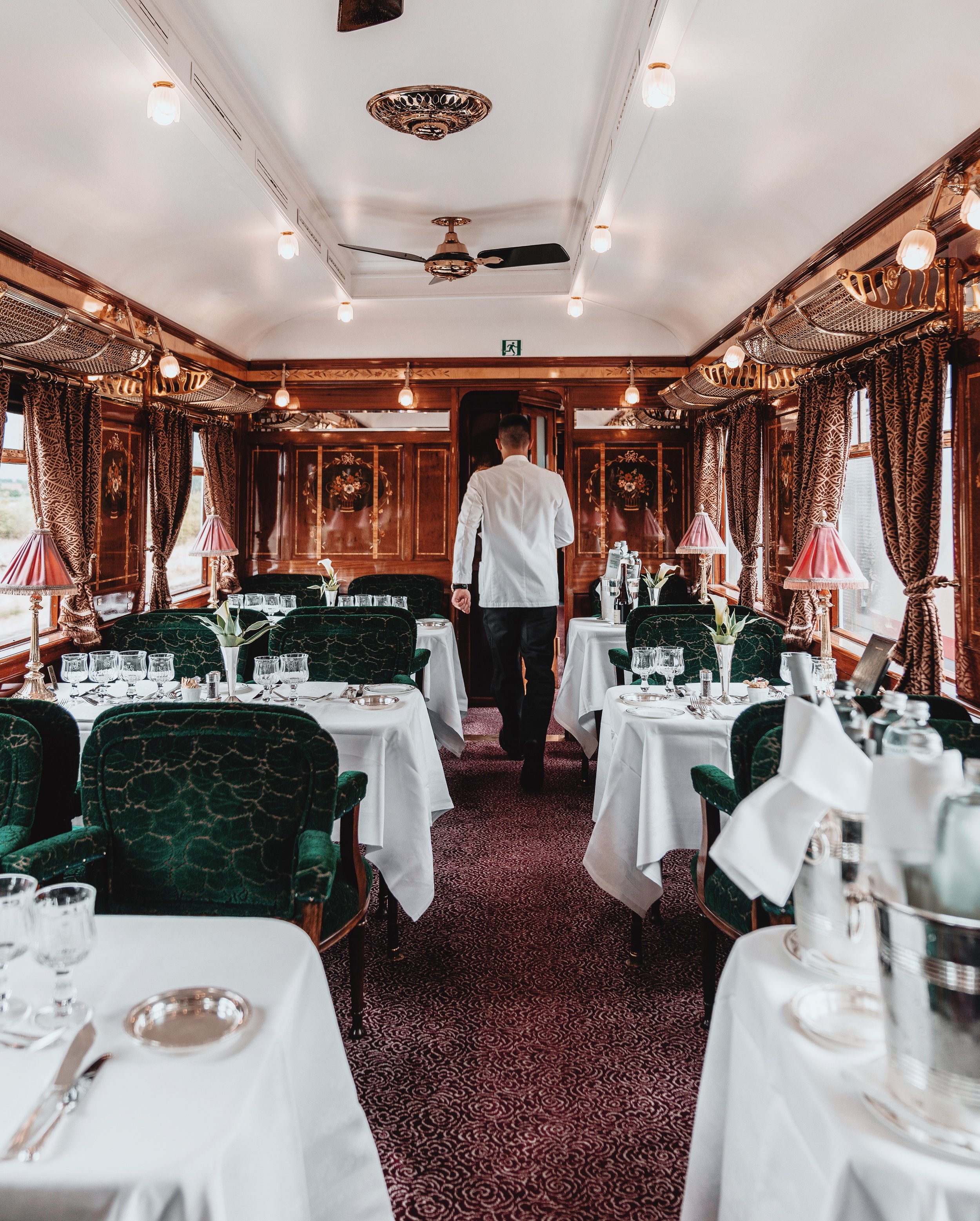 Something that we were extremely excited to see were the Grand Suites; there are only three of these suites on the train and each one has a queen size bed and a decently sized bathroom with a shower, which usually sells for €14.000 per night! The guests are served caviar when they check in and they have access to a lot of champagne, not a bad deal. They're all different from one another as the interiors are inspired by Paris, Venice and Istanbul and they embody art deco indulgence. It's astounding to think that this is just a train and not an actual 5 star luxury hotel.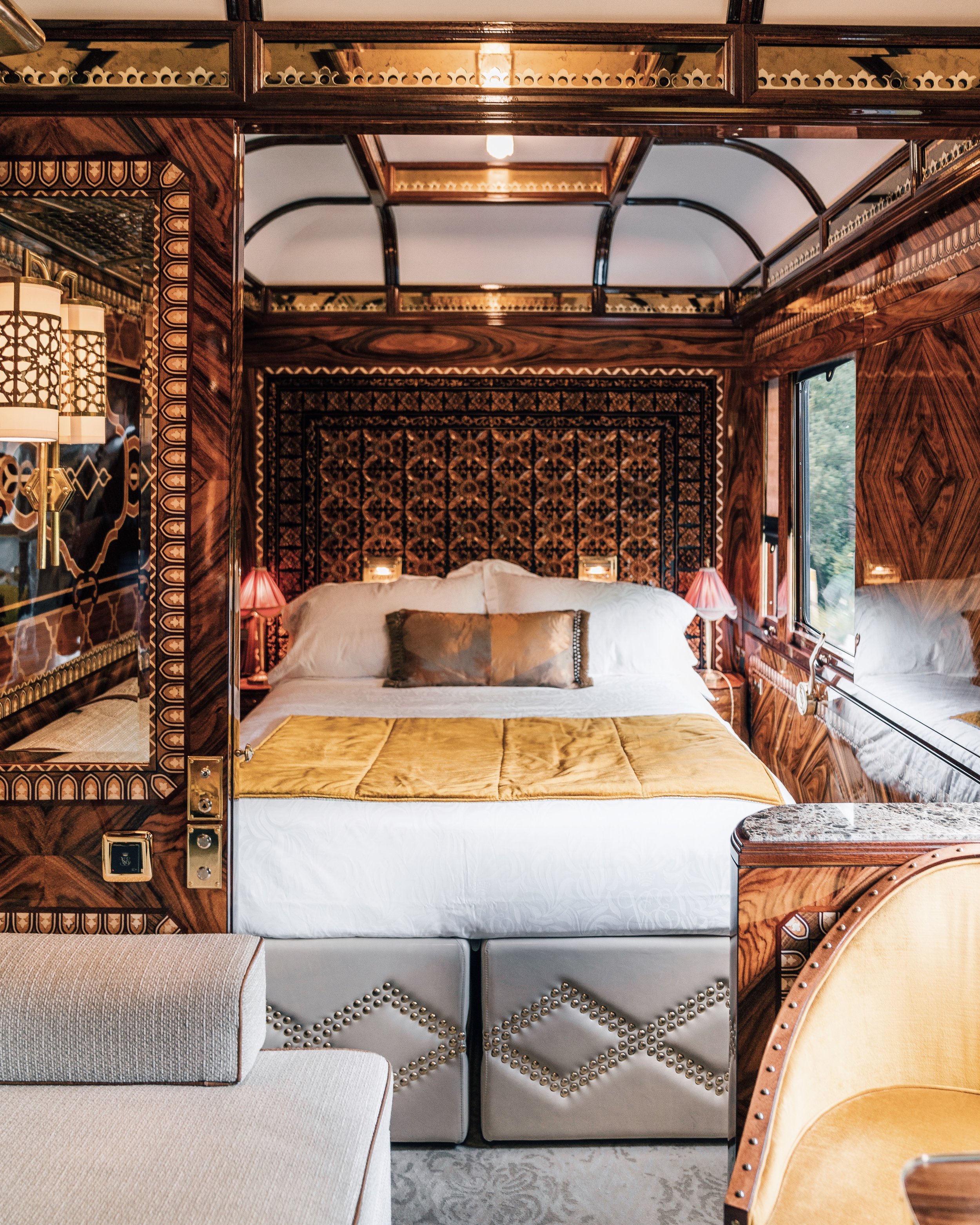 For the rest of the day, our plan was to relax and enjoy traveling in such style + comfort. So we spent the afternoon in our suite where we had tea and chocolate cake, before getting ready for dinner.
We left our suite around 7pm and as we were about to head over to the bar for cocktails we were blessed with the most gorgeous golden hour we could ask for. The light was shining on the polished wood and the entire carriage seemed to turn gold.
In the bar they were playing the piano and jazz music, and as with this beautiful music in the background we were doing some "people-watching" as we looked at everyone's gorgeous outfits. Most of the ladies were wearing gowns and the gentlemen were wearing tuxedos and black ties, it was really like being back in the 20's. When everyone left the bar to head over to their tables, we stayed and kind of took over the carriage for our photoshoot session!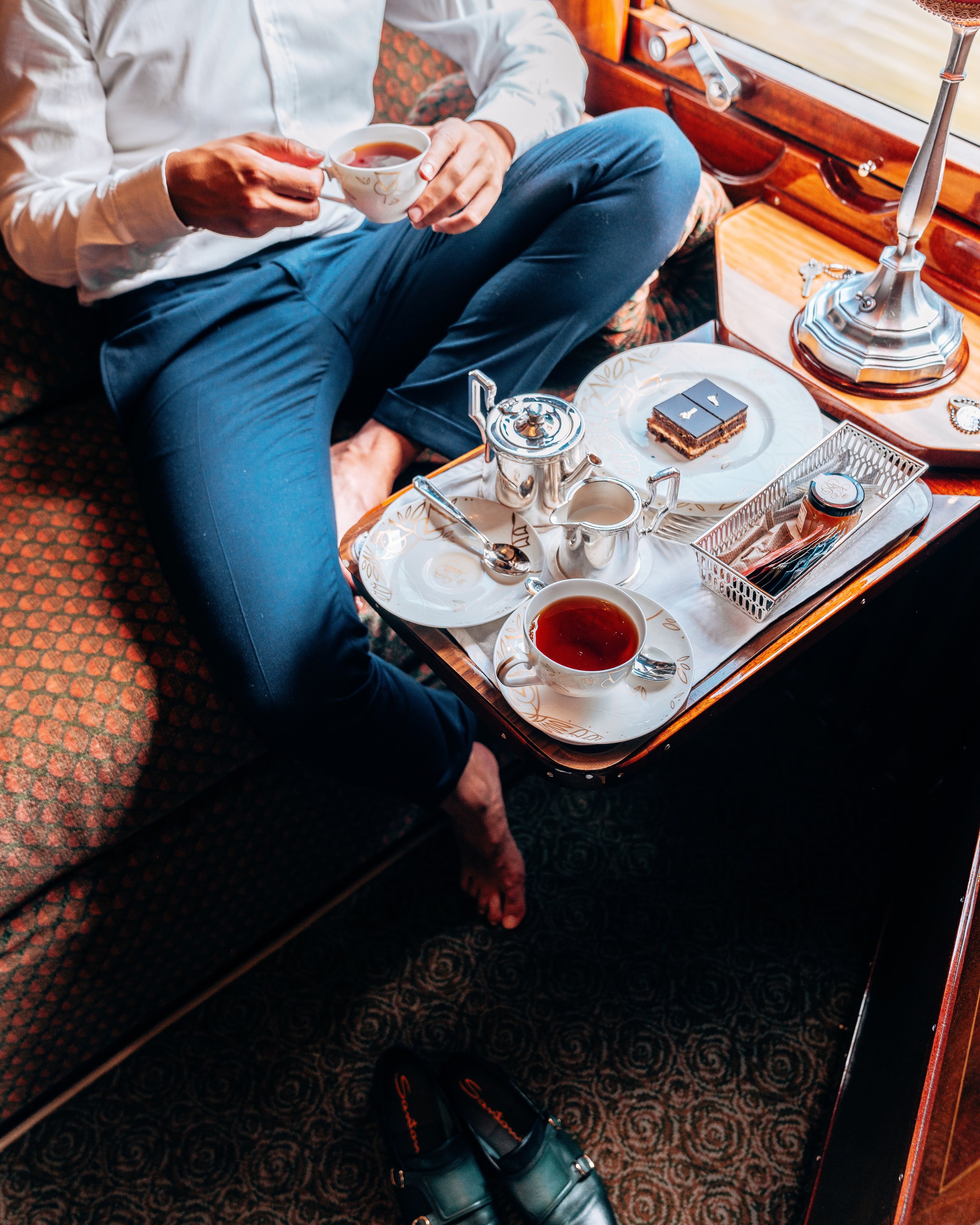 The food is amazing, too, curated and prepared by Executive Chef Christian Bodiguel. It's not too heavy, which is great, because to be honest you just spend your entire day chilling on a train, so not a lot of exercise is involved!
For the two main meals, you have two options, you can either order the four dishes that are included in your rate (starter, first + second course and dessert), or you can get stuff that is off the menu for an extra price. We had dinner at Cote D'Azure which, as the name suggests, has blue lounge chairs and white tablecloths.
After dinner we spent a few hours in the bar before heading back to our suite for getting some sleep. During the night it got really cold, so we suggest you bring a heavy pajama with you and an eye mask.
In the morning they brought us breakfast, which consisted of freshly baked pastries, coffee and fresh fruit… soon after, at around 8am, we arrived in Paris and it was our time to get off the train. As we were walking outside the station we looked back at the train and we couldn't believe that time had flown by so fast!