VIVA LAS VEGAS: Our getaway in Vegas!
We arrived in Las Vegas right after sunset… so driving through the desert as the sun was going down was pretty incredible, as the colors changed from daylight to night time and we started to get a glimpse of the lights of Vegas from afar.
This was our second time in Las Vegas so, this time, we were set on discovering a different side of the city.
We stayed at the newly renovated Palms, which is just a 5 minute drive from The Strip, and we loved our stay — and especially the super comfy bed!
But… if you want to know our absolute favorite thing about the hotel, then it's definitely The Unknown Bar, where you can sip a cocktail while staring at one of Damien Hirt's incredible pieces of art.
When we woke up the following morning, we drove to Downtown Las Vegas and spent the morning at The Neon Museum, a non profit organization dedicated to preserving the city's most iconic art form - the neon sign. Our tour was followed by a delicious lunch at Carson Kitchen.
We then drove back to our hotel to get ready for the night. We had two amazing experiences to look forward to, the first one was our helicopter ride with Sundance Helicopters.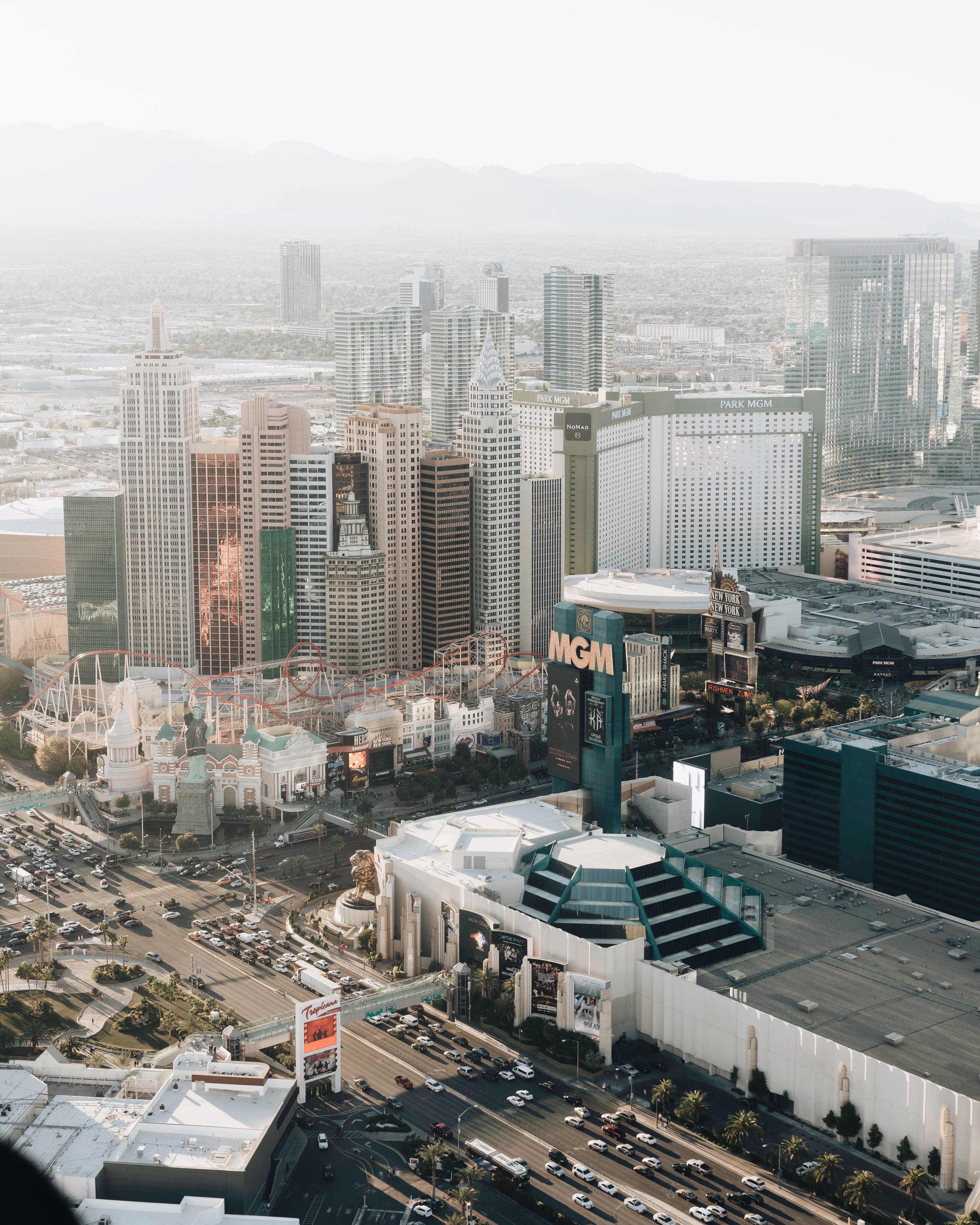 The experience began with a limousine pickup from our hotel, which drove us to the flying port. We were welcomed in the VIP lounge where we sipped champagne while we were briefed on what was going to happen next. The "Las Vegas City Lights Picnic" ride was incredible and our pilot was so nice, which made us love our experience even more! We were on the EC-130 Ecostar and the helicopter was so comfortable we could've sat there for hours! The tour began with an amazing Las Vegas strip view and then we got to see the wonderful cliffs of Red Rock Canyon, where we actually landed and stopped for about an hour, where we had some snacks (and more champagne!) as the sun was going down. On the return flight we got to see The Strip at sunset which, as you can tell from our photos, was incredible!
Right after our helicopter ride, the transfer dropped us off at Wynn for the Le Rêve - The Dream show.
It was simply breathtaking. The talent of the dancers was what kept our eyes wide open for the entire length of the show. If you have time and you'd like to see something different from a music concert, we would definitely recommend it!
Last, but not least, before leaving Las Vegas we drove to Bellagio Gallery of Fine Art for a quick visit to the Yayoi Kusama exhibition. The infinity mirrored room has always been one of our favorite art installations, and after paying a visit to the one in LA, we couldn't not go to the one in Vegas, too!
A big thank you to @Vegas for partnering with us on our trip and planning such an amazing stay for us and a big thank you to Sundance Helicopters for an unforgettable ride.